HP NonStop M8505 Tabletop Tape Drive
M8505 LTO G3 Tabletop Tape Drive P/N 542960
AVAILABLE NOW AND CURRENTLY IN STOCK!!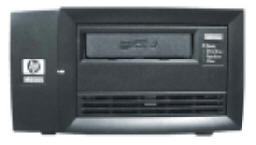 WE WILL REPAIR YOUR BROKEN DRIVES TOO!
The replacement products for the Super DLT tape drives are products from the HP Ultrium LTO tape drive product set introduced in September 2003, (product Ids M8505. The HP M8505 Ultrium 960 LTO tape drives deliver significantly faster throughput and much higher per-media storage capacity than the Super DLT tape drives and are priced comparatively. However, the HP M8505 Ultrium 960 LTO products are not read or write compatible with the Super DLT tape format. For this reason it is important to highlight the fact that while there are huge performance and capacity gains in moving to the replacement tape drive products, this move will require a tape media migration strategy.
The HP M8505 tape drive is a high performanace tape drive designed for the NonStop server environment. This drive provides a formatted capacity of 400GB and a sustained user data transfer rate of 30.0 MB's.
The HP M8505 Ultrium 960 Tabletop Tape Drive provides direct Fibre Channel connectivity to HP Integrity NonStop servers with manual operation in a tabletop configuration. The 960 tape drive significantly lowers the cost for an entry-level tape drive on Integrity NonStop servers while greatly increasing both its capacity and performance.
The M8505 HP Ultrium 960 tape drive requires at a minimum Release Version Update (RVU) H06.04 of the HP NonStop operating system, Mission Critical Edition. In addition, beginning with RVU G06.28 for HP NonStop S-series servers, the Fibre Channel–based 960 tape drive can also be connected to a NonStop S-series server through an HP ServerNet connected IOAME with Fibre Channel ServerNet Adapter (FCSA) Fibre Channel ports.
Installation:
Installing a M8505 Tape Drive is as simple as connecting a 68 pin SCSI cable. Using Tandem's standard SCSI cables, the M8505 connects to either an S-series processor MFC SCSI port, the ServerNet Device Adapter (ServerNet / DA) or the Integrity NonStop that has an appropriate interface installed.
Environmental Specifications
Product ID Description Power Requirements:
M8505
Voltage: 100–240 VAC @ 50–60 Hz, 1.5 A, single phase

Dimensions (height x width x depth):
M8505
4.5 x 9.0 x 13 in. (11.4 x 23 x 33 cm)

Weight:
M8505 14.0 Lb/ 6.35 KB